Narconon Hawai`i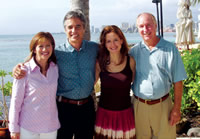 Sakura & Myron Thompson, Kelly Preston & John Cowden
For the past 40 years Narconon has been providing effective drug prevention and rehabilitation services around the world. Today Narconon has more than 180 centers and programs worldwide.
Narconon Hawai`i was started by Myron Thompson who, being very aware of the escalating drug problem in Hawai`i, decided to do something about it.
Having knowledge of the results that the Narconon drug education program has had worldwide,
Mr. Thompson invited Narconon to the islands to help provide drug education to his fellow Hawaiians.
Mr. Thompson teamed up with Hawaiian-born actress, Kelly Preston. They set about to make drug education available to as many youth as possible. They were soon joined by many others who cared enough to do something effective about the growing problem.
Today, over 10,000 Hawaiian youth have benefited from the Narconon drug education lectures in schools and community groups across the islands.
Our mission is simple: to provide proven and workable prevention and rehabilitation services to Hawai`i and thus drastically reduce drug use amongst youth and adults.
For more information about Narconon, visit the About Narconon section of this site.